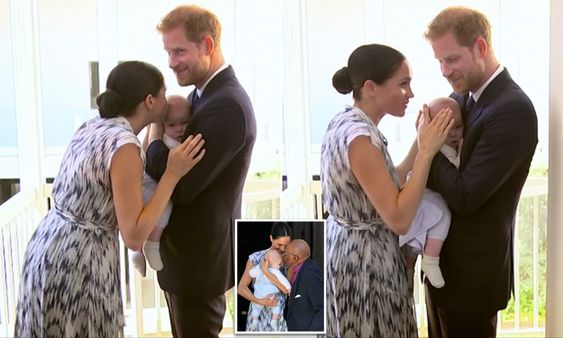 That little habit Archie loves with the Queen
From the United States, the son of Prince Harry and Meghan Markle took up small habits with his grandmother, Queen Elizabeth II.
Meghan Markle and Buckingham Palace, the saga continues. While the Duchess of Sussex recently accused the Crown of trying to remove her from the birth certificate of her son Archie, Meghan Markle would not consider accompanying her husband, Prince Harry, on his trip to the UK this summer.
At least that's what Omid Scobie, author of the biography Finding Freedom, announced in the columns of Ok! magazine. "Meghan doesn't want to be away from Archie, and it would be very complicated for such a young child to accompany them on their travels, especially with the restrictions that will potentially be put in place," said the royal expert.
In any event, Meghan's relationship with the Crown does not appear to impact Archie's relationship with his grandmother. Also speaking to Ok! magazine, Omid Scobie revealed that since the beginning of the pandemic, little Mountbatten-Windsor has been talking regularly with Elizabeth II via the Zoom teleconference service. "Archie loves the family meetings on Zoom and the queen has really taken to it during the confinement," reveals Omid Scobie.
Archie loves Zoom family reunions
Despite the 8750 kilometres between London and Los Angeles, little Archie keeps in touch with his family and his origins. A habit that must have greatly pleased his father, Prince Harry, who always appeared close to his family members before his departure for Los Angeles.
In the biography of the Duke and Duchess of Sussex, the Prince had even confided his desire to see Archie grow up alongside his cousins, George, Charlotte and Louis. Life decided otherwise, but fortunately, Zoom is there to maintain the bonds between the heirs and heiresses of the Crown of England .