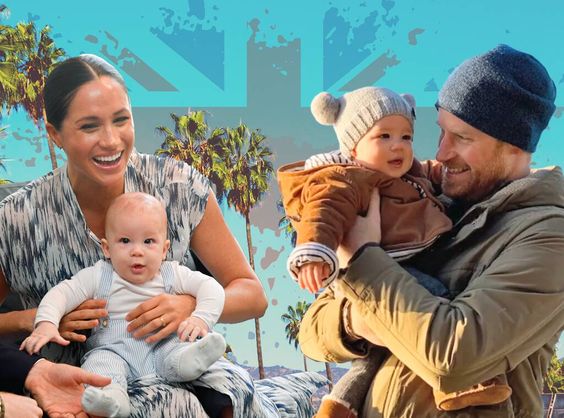 Meghan Markle and Harry: Archie's voice heard for the first time 
While recording their Archewell Audio podcast on Spotify, Meghan Markle and Harry let their son Archie say a few words at the microphone. He can be heard saying 'fun', 'happy', 'new' and 'year' to wish listeners a happy new year!
Meghan Markle and Harry are putting their foot down to wish their fans a Happy New Year. While recording the first episode of their Archewell Audio podcast on Spotify, following their £30 million deal with the company, Meghan Markle and Harry let their 19-month-old offspring speak to listeners.
The great-grandson of Queen Elizabeth II can be heard saying words like 'fun' but also 'happy', 'new' and 'year'. Proof that little Archie has grown up and can now communicate! It was enough for the listeners to notice the little American accent of Prince George's cousin, criticized for his "redneck" diction.
A few days ago, the couple had already melted their fans by unveiling a lovely greeting card on their Instagram account, as is the tradition. The little family was represented by a lovely illustration.
Little Archie is in his father's arms while Meghan Markle seems to be talking to him. A way for the Sussex to respect the tradition even though 2020 was a special year for them. They are celebrating their first Christmas in California, far from the British royal family.
A small character
So Meghan Markle and Harry have created new traditions to celebrate the holiday season in their own way. Little Archie is not to be outdone. He carefully chose the decoration of their new home. And he seems to know what he wants!
"The little Christmas tree, including the homemade ornaments and other decorations, were selected by Archie, and the tree will be replanted after the vacations," explained the spokesman for the Duke and Duchess of Sussex. A new beginning that seems to please their offspring!
Photo credits: AGENCY / BESTIMAGE