Jessica Mulroney, Meghan Markle's best friend, receives more than 40 hate messages a day. They follow up on her comments about white privilege.
She's at her wit's end. Jessica Mulroney, Meghan Markle's best friend, has been a victim of cyber-bullying for several months. On Instagram, the 40-year-old Canadian stylist has a crush and posts one of the 40 hate messages she receives daily. "Mulroney looks like an old woman," she says. She always has her head and neck bent forward, a little curved. Her mouth is always open too." She goes on: "I'm not even going to start with that massive head. She dresses like a 20-year-old woman… What's "fashionable" about this thing? [sic]"
Beside her Instagram publication, Jessica Mulroney writes that she won't "pretend to be a victim." "But imagine receiving messages like this 40 times a day for years," she tells her subscribers. These are women dissecting you so much that it impacts your mental health.
These are women who use social networks to embarrass and hurt you. "Meghan Markle's best friend, who started filming her documentary series, notes, "Now imagine your daughter receiving just one message like this. Just one. As a mother or father, how would you feel? "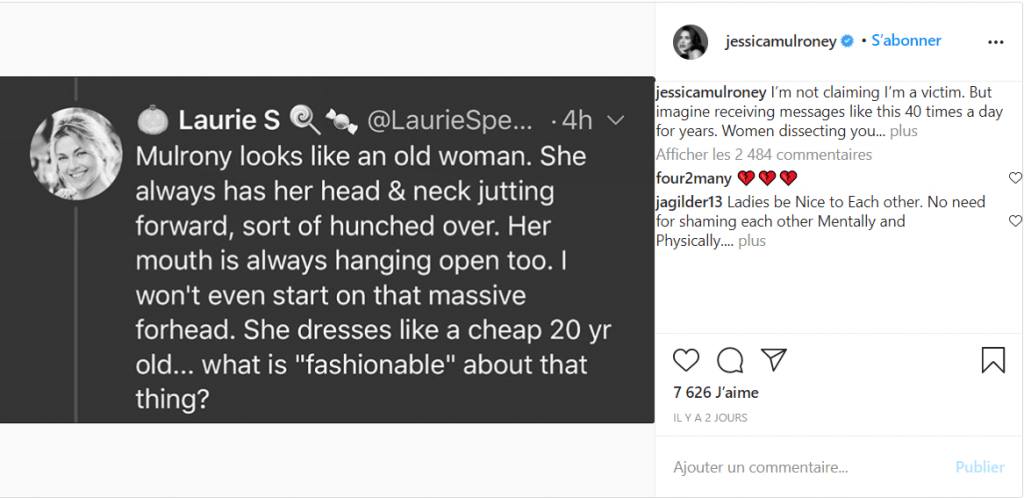 A violent argument against a backdrop of racism
The genesis of this case goes back to June. While the world was in turmoil following the assassination of George Floyd, Jessica Mulroney had a violent argument with Sasha Exter, an African-Canadian influence, over racism and white privilege.
During their altercation, the Canadian stylist reportedly threatened to end the career of the instagrammer and take her to court. This response did not at all please the influencer, who felt that the Good Morning America columnist, now off the air, was "well aware of her wealth, power and privilege due to her skin color" when she intimidated him. The story also embarrassed Meghan Markle.
The duchess would have liked to no longer be associated with Jessica Mulroney, "at least not in public," a source close to the princess told the Daily Mail.
Photo credits: The ImageDirect / Bestimage