This Tuesday, August 23, Meghan Markle appeared with curly hair and without makeup in a Zoom conversation with a friend. The shots of the Duchess of Sussex in natural are a sensation on social networks.
On the occasion of the launch of Archetypes, a podcast by Archewell Audio in partnership with Spotify, Meghan Markle has bluffed the Internet users. The Duchess of Sussex appeared au naturel during a zoom meeting. With Archie on her lap, she showed up without makeup and especially with curly hair. The wavy hairstyle of the wife of Prince Harry has delighted Internet users. They discovered it after several photographs of the interview have leaked. On social networks, the comments praising the forty-year-old are numerous. "Look how beautiful she is", "I love her hair like this" or "a natural beauty", we can read.
Rather adept at blow-drying, Meghan Markle had never revealed herself like this. Her detractors denounce a "pitiful staging". Two years after the publication of pictures of her childhood, exposed by her father in a documentary broadcast on Channel 5, we discover the duchess in all simplicity. Her hair, which seems more frizzy on the pictures of her as a child, has probably been treated with a Brazilian straightening or a relaxer despite the curls that persist.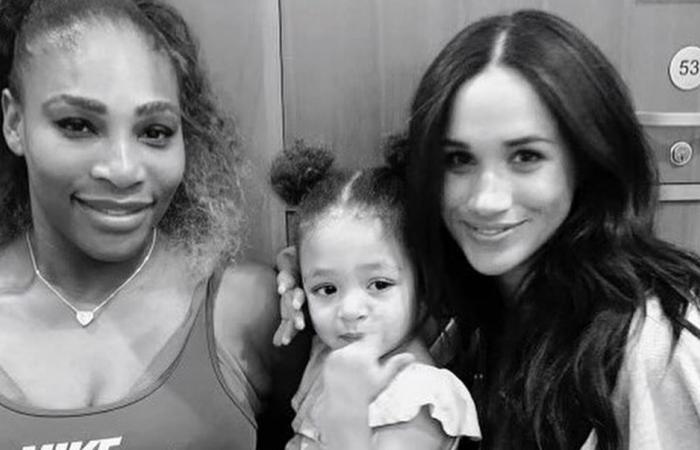 Serena Williams guest on the first episode of Archetypes
For the first episode of her podcast Archetypes, Meghan Markle invited her friend Serena Williams. The tennis champion and the duchess talk about "ambition" and its deviations. They break down the clichés, as well as the negative representations conveyed around women who are. In this audio, Meghan Markle thus confides: "I don't remember personally feeling the negative connotation behind the word ambitious until I started dating my current husband (Prince Harry, Editor's note)."
Often criticized for her high aspirations, Meghan Markle has been described by many tabloids as pernicious and calculating since the Megxit. In July 2021, royal expert Jonathan Cacerdoti thus asserted in The Express, "Maybe she has fallen in love with Harry, but maybe also their relationship is a kind of stepping stone for Meghan, because you don't get married into the royal family, I think, without knowing what it's going to do is going to generate international exposure."
Photo credits: Dana Press / Bestimage