Every December 1st marks the world day against AIDS. A major commitment of Lady Diana which has since been taken up and developed by Prince Harry, who does not hesitate to give of his person.
This is one of the most striking images of Lady Diana's commitment: her first visit to HIV patients, where she appeared shaking hands with people who are still very stigmatized and victims of false information about AIDS. The princess will multiply these visits to listen, support and accompany HIV positive people. She also inaugurated the first British medical center dedicated to the support of these patients.
Her commitment, which took concrete form every December 1st on the occasion of World AIDS Day, did not disappear with the death of the Princess of Hearts. It is her youngest son, Prince Harry, who has taken over this issue. Indeed, if it was Harry who had been chosen in October 2017 to receive the Attitude Legacy Award given posthumously to his mother, it is because he has not ceased to engage in the fight against AIDS and against the stigmatization of people with HIV.
His public screening against the disease
On December 1, 2016, a symbolic date, Prince Harry had himself tested in public. The opportunity to recall the importance of getting tested and knowing his HIV status in the fight against the pandemic. And the prince was not alone: present on the island of Barbados, Harry was tested in the company of the icon of the place, the singer Rihanna. She had also done a screening on this occasion. "I want to say to all those who have not been tested: no matter who you are, your background, your culture or your religion, take the test," insisted the youngest son of Lady Diana.
Two years later, it was in England that Prince Harry was again publicly tested with a simple prick on his fingertip. Tests are available in pharmacies and specialized associations (in the United Kingdom as in France) and can be done at home. Prince Harry's message was heard: following his public test, requests for HIV self-tests jumped by 400% in the UK. An effective way to reduce the disease.
His special bond with an HIV-positive celebrity
Following in the footsteps of his mother, who appeared close to HIV-positive people to break down stereotypes about the disease, Prince Harry is showing that it is safe to be around people who have contracted HIV. He thus publicly supported Gareth Thomas, a former British rugby star who had publicly said his HIV-positive status in September 2019. As a result of their many joint engagements, Prince Harry and Gareth Thomas have become close.
Thus, in November 2019, the retired rugby player had rejoiced in the "magnificent" support shown to him by Prince Harry. He even revealed that they now maintained a comforting correspondence. "I'm not just talking about support that comes into his role as a prince, I mean support as a human being," Gareth Thomas told Hello Magazine at the time. "He didn't have to call me, he didn't have to text me to check in, that's not a royal duty." And yet, Prince Harry did.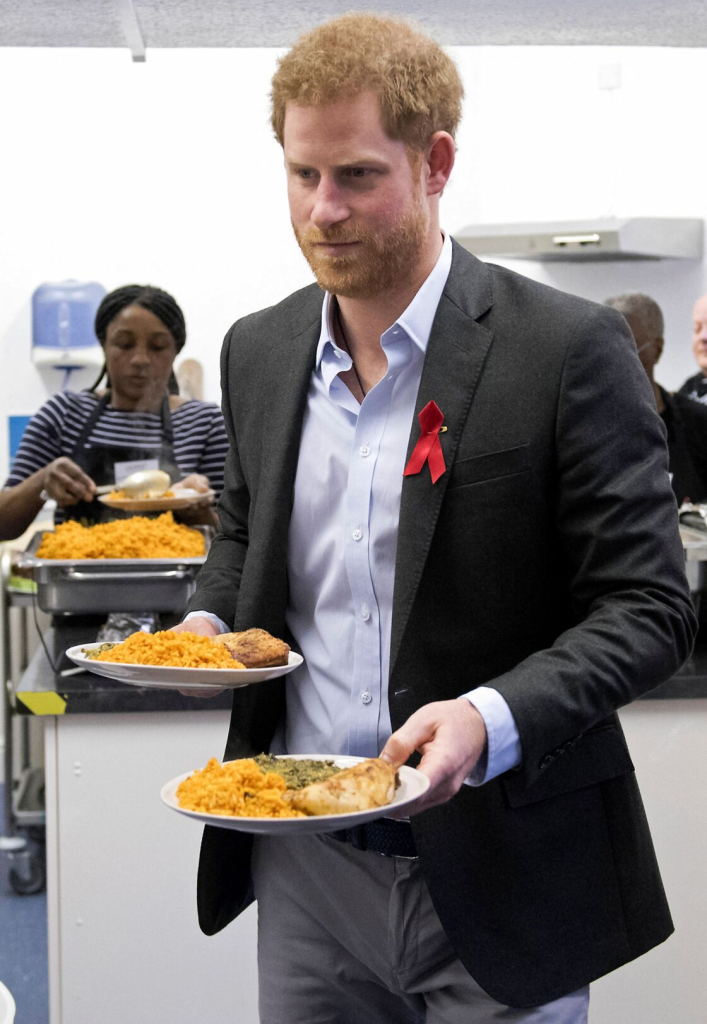 His exceptional gift thanks to his controversial memoirs
More recently, Prince Harry's commitment to the fight against HIV has allowed him to silence a burgeoning controversy: that of his potential personal enrichment following the publication on January 10, 2023 of his memoirs, which are announced as explosive for the British royal family. The prince confirmed that he will donate a part of his advance on his income to the NGO Sentebale, which fights AIDS in Africa.
The sum thus donated to Sentebale would amount to 1.5 million dollars. "I am delighted to be able to support Sentebale, both physically and financially, through a personal donation to meet immediate needs," Prince Harry said in an official statement.
His sporting event in favor of research
Prince Harry knows the NGO Sentebale well: he himself co-created it in 2006 with Prince Seeiso of Lesotho. The charity specializes in helping children in Africa affected by HIV and AIDS. Lesotho is proportionally the second most affected country in the world by the virus.
Since 2016, the NGO has organized the Sentebale Polo Cup. A friendly polo competition whose proceeds help fund the association's actions. Prince Harry takes part in the competition almost every year, which allows the charity event to enjoy international visibility favorable to donations, and therefore to sick children.
Photo credits: Backgrid USA / Bestimage